Dimensions
Head Dia.

0.9

inches (22.5 mm)

Body Dia.

0.85

inches (22 mm)

Length:

5.2

inches (132 mm)

Weight

2.1

ounces (60 grams)
w/o battery

3.7

ounces (106 grams)
w/ battery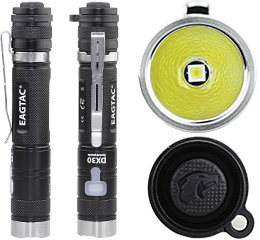 Battery Type
1x18650 or 2xCR123A2
The built-in li-ion rechargeable function only works with a single 18650 battery
Compatible battery (diameter/length)

123A: (16-16.8mm/34-34.5mm)
18650: (18-18.8mm/67-68.5mm)
Operating voltage
2.7V - 6V
All batteries are connected in series. Do not exceed 6V. Do not use two rechargeable 3.0/3.7V RCR123A.
What's included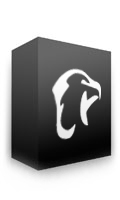 DX30LC2-R flashlight
Spare o-rings
User Manual
Mil-Spec Para-cord Lanyard w/ quick attachment clip
Comes with stainless steel bezel
Removeable silver pocket clip made of spring steel w/ harden treatment
USB charging cable (3.3feet/1meter)
w/ AWG24 copper wire
EAGTAC 18650 Li-ion battery included
Two models
Base

Smooth stainless steel bezel
EAGTAC li-ion 18650 2600mAh battery (authentic Sanyo Japan cell)

Kit

Crenulated stainless steel bezel
EAGTAC li-ion 18650 3500mAh battery (authentic Sanyo Japan cell)
UL certified USB 5V 1A wall charger (100V-240V)
Heavy duty nylon holster
Carrying method
Para-cord lanyard with quick attachment clip
Heavy duty nylon holster
Waterproof
Replaceable items
Reflector
Light textured aluminum reflector
Material
HAIII hard anodization aerospace aluminum
LED
CREE XP-L HI V3 Cool White LED
CREE XP-L HI V2 Neutral White LED
Max output
CREE XP-L HI V3 Cool White LED

LED lumen: 1160
ANSI FL-14 lumen: 905
Beam Profile
CREE XP-L HI V3 Cool White LED
Center lux: 20,800 lux
Center spot angle: 5.2°
Spill light angle: 62°
Beam distance: 314 yards / 288 meters
Mouse over to enlarge
Lens
Waterwhite glass lens w/ harden treatment
Anti-reflective (AR) coating on both side (96% transparency)
LED circuit
C3200L SC

Ultra low dropout voltage (<0.2v) for longer current regulated runtime
Highly integrated design w/ built-in side click switch
Low internal resistance design offers up to 99% efficiency
High switching frequency (1MHz) controller for more compact circuitry design
Non-dimming constant current regulation for all output levels without flicking
Smart battery level report system
Energy saving feature5
Zero standby current
Charging circuit
L950 SC

5V USB input (requires 1A or higher)
950mA MAX charging current
Constant current / Constant voltage charging algorithm
Small current charging for low voltage battery (less than 3.0V)
Precise voltage detection design +/- 1%
No trickle charge
Smart charging level report system
Battery level report (discharging)
A blue LED indicator under the main switch reports the estimated battery remaining capacity

Flash once: lower than 20%
Flash twice: 20%-50%
Flash 3 times: 50%-80%
Flash 4 times: higher than 80%
Charging level report (charging)
A blue LED indicator under the main switch reports current charging level

Flash once: lower than 50%
Flash twice: 50%-75%
Flash 3 times: >75%
Constant on: 100% (done)
Output and Runtime
Five brightness levels

Led lumen:
11605-980/590/221/77/9
ANSI FL-1 lumen:
9055-790/475/178/62/7
Runtime:
1.5/2.8/8.5/28/200+ hours (1x18650)6
0.8/1.5/5/17/140 hours (2xCR123A)

Three hidden auxiliary outputs7

Disorienting Strobe/Beacon (1.67Hz)/S.O.S.
Operations
Basic operations:
Turn on the light at MAX output by pressing the tailcap button until it clicks.
Turn on the light at LOW output by holding the side switch button while pressing the tailcap button until it clicks.
For momentary on function, slightly press the tailcap button
To switch between different brightness levels, press the side button switch w/ flashlight on
To enter hidden auxiliary mode, press and hold the side button switch for 3 seconds w/ flashlight on

Battery charging:
Remove the waterproof cover and insert the charging cable to charge the battery. User must turn on the flashlight switch at the tailcap to charge.
(The flashlight will switch off the LED output during charge automatically until the charging cable is disconnected.)
The indicator may start flashing when user plug in the charging cable (without turning on the tailacp switch). Switch on the tailcap switch to start charging and the charging indicator will reflect the current charging level.
Controls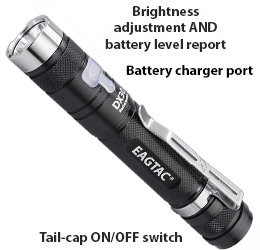 Other features
LED direct soldering on copper for maximum heatsink ability
User replaceable glass lens
Battery reverse polarity protection
Ultra low internal resistance phosphor bronze springs (silver coated)
Spring loaded positive and negative terminal
Bi-directional pocket clip design
Built-in li-ion charger
Warranty
Ten years performance guaranteed warranty
Battery Safety Precaution
Ensure the protective circuit on the 18650 batteries has current limitation of higher than 5A. Always use proven EAGTAC batteries for best performance and reliability.
All EAGTAC flashlights are designed to use button-top battery (battery with protruding positive terminal). For rechargeable li-ion battery, use only EAGTAC li-ion battery, or other protected li-ion battery with compatible length and diameter. Before using the battery, check and ensure the battery outer wrapping (the isolating plastic film that wraps around the metal housing of the battery) is complete. Broken battery wrapping may lead to short circuit and damage to the flashlight.
Lithium and Li-ion battery can explode or cause burns if disassembled, shorted, or exposed to high temperature. Do not mix new and used batteries. Do not mix batteries with different brand, capacity, voltage, or install batteries backwards.
NiMH rechargeable battery may release gas during discharge. If you experience an inflated switch boot or find high pressure being built inside the flashlight, switch off the flashlight immediately. Slowly loosen the tail-cap to reduce the internal pressure and replace all batteries.
Back to top
Flashlight Maintenance
Periodically clean the threads and o-rings with a lint free cloth and apply a thin coating of EAGTAC synthetic grease to the o-rings and threads. After prolonged exposure to moisture, the head and batteries should be removed, inspected, and dried. Do not touch or attempt to clean the reflector, as it will scratch the reflective coating permanently.
Back to top
This weight measurement is based on the Kit model excluding batteries
All batteries must have protruding top button.
Beam output diameter taken at one meter
ANSI FL-1 Lumens is a measurement of light output standardized by American National Standards Institute for use with flashlights. This ANSI Lumen measurement is the total overall light output being emitted from the flashlight. This measurement is generally more accurate as it takes into consideration the loss from reflector/lens/bezel. EAGTAC's ANSI Lumen output is measured using a calibrated integrated sphere three minutes after turning on the flashlight. For O.T.F. lumen, measurement is taken one minute after turning on the flashlight.
Energy saving feature reduce the maximum output current from 100% to 85% after 200 seconds at turbo output.
Runtime is measured using three EAGTAC 3500mAh high discharge 18650 li-ion batteries.
Maximum efficiency occurs when input voltage is very close to LED forward voltage.
Details and feature maybe subject to change without notice.