Dimensions
Head Dia.

0.9

inches (22.5 mm)

Body Dia.

0.85

inches (22 mm)

Length:

4.5

inches (115 mm)

Weight

1.7

ounces (49 grams)1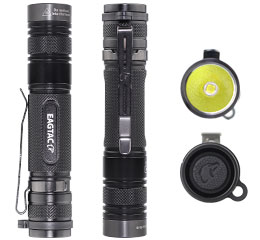 Battery Type
2xCR123A, or 1x18650 li-ion2
Battery cell and the protection circuit must sustain 5A+ discharge
Compatible battery size (diameter/length)

123A: (16-16.8mm/34-34.5mm)
18650: (18-18.8mm/65-68.5mm)

We recommend using EAGTAC 18650 li-ion with protection PCB built-in
Operating voltage
What's included
D25LC2 Clicky MKII flashlight

Stainless steel bezel w/ durable dark titanium coating
Spare o-rings
Harden spring steel pocket clip (Titanium coated)
User Manual
Rigid Nylon Holster w/ self-retention device and flip
Mil-Spec paracord lanyard w/ quick attachment clip

Carrying method

Para-cord lanyard with quick attachment clip

Waterproof

Reflector

Smooth aluminum reflector

Material

HAIII hard anodization aerospace aluminum

Lens

Waterwhite glass lens w/ harden treatment
Anti-reflective (AR) coating on both side (96% transparency)

Optional accessories

3.7V 18650 2600mAh li-ion protected battery (10A discharge)
3.7V 18650 3500mAh li-ion protected battery (10A discharge)
Rigid nylon holster w/ self-retention device
Lens
LED
CREE XM-L2 Cool White U4 LED
CREE XM-L2 Neutral White U2 LED
Nichia 219C CRI-92 R9050 D240 LED
Max output
CREE XM-L2 Cool White U4 LED

LED lumen: 1480
ANSI FL-14 lumen: 1150

CREE XP-L HI Cool White V3 LED

LED lumen: 1303
ANSI FL-14 lumen: 1000

Nichia 219C CRI-92 R9050 D240 LED

LED lumen: 880
ANSI FL-14 lumen: 655
Beam Profile
CREE XM-L2 Cool White U4 LED
Center lux: 10,500 lux3
Center spot angle: 11.4°
Spill light angle: 62°
Beam distance: 223 yards / 205 meters
CREE XM-L2 Neutral White U2 LED
Center lux: 9400 lux3
Center spot angle: 11.4°
Spill light angle: 62°
Beam distance: 211 yards / 194 meters
Nichia 219C CRI-92 LED
Center lux: 7500 lux3
Center spot angle: 8.6°
Spill light angle: 60°
Beam distance: 189 yards / 173 meters
LED circuit
W3400 RC

Current regulated buck converter with external ultra low resistance power mosfet which offers up to 96% efficiency7
Uses low-ESR MLCC and tantalum capacitor for input and output decouple
Uses molded power inductor for higher saturation current and less electromagnetic interference
Current regulated output (non-PWM) for all brightness levels without flicking
Active thermal management that adjusts output according to flashlight temperature5
Three customizable brightness level for very low and low output
User defined startup level for loose head
Zero standby current
Output and Runtime
Five output levels

Led lumen:

Max: 1480-7605
High: 760
Medium: 290
Low: 75
Very Low: 18/5/0.5

ANSI FL-1 lumen:

Max: 1150-7605
High: 585
Medium: 225
Low: 60
Very Low: 15/5/0.5

Programmable Low and Very Low output
Runtime:

EAGTAC 18650 3500mAh:6

Max: 1.1-2.2 hrs
High: 2.8 hrs
Medium: 8 hrs
Low: 33 hrs
Very Low: 150/1000/1500 hrs

EAGTAC 18650 2600mAh:

Max: 0.8-1.6 hrs
High: 2 hrs
Medium: 5.8 hrs
Low: 25 hrs
Very Low: 110/750/1100 hrs

EAGTAC 2xCR123A 1700mAh:

Max: 0.6-1.1 hrs
High: 1.6 hrs
Medium: 5 hrs
Low: 22 hrs
Very Low: 95/600/900 hrs

Hidden auxiliary outputs

Group 1 (tight head): Strobe(Variable)
Group 2 (loose head): Strobe(Constant)/Flash(Hi)/S.O.S.(Fast)/Beacon/Flash(Low)
Operations
Basic operations:
Basic - Press on the switch button until it clicks to turn on the flashlight. Press the switch again until it clicks to switch off the light.
Access output groups 1 & 2 - Tight the head to access group 2 output. Loose the head to access group 1 output.
Group 1: MAX - Strobe (Variable) - cycle
Group 2: Very low - low - med - high - Very low - low - med - high - Strobe(Constant)- Flash(Hi)- S.O.S.(Fast) - Beacon - Flash(Low) - cycle
Switch between output level - With the flashlight on, slightly press the switch and release (within 1s) to switch to the next output.


User define function:
Change brightness level for the lowest output. To toggle the brightness level, turn on flashlight and switch to the lowest level with head loose, wait for at least one second, and repeat head tight and loose three times.
Define any output level as start-up output level for group 2 (loose head). To toggle this setting, choose any level with head loose, wait for at least one second, then tight the head, wait for at least one second, and then repeat loose and tight for three times.
Controls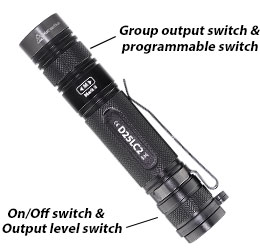 Other features
LED Copper MCPCB star board with DTP technology and direct heat path
User replaceable glass lens
Battery reverse polarity protection
Ultra low internal resistance phosphor bronze springs (silver coated)
Tail stand
Warranty
Ten years performance guaranteed warranty
Battery Safety Precaution
Ensure the protective circuit on the battery has current limitation of higher than 5A. Always use proven EAGTAC batteries for best performance and reliability.
All EAGTAC flashlights are designed to use button-top battery (battery with protruding positive terminal). For rechargeable li-ion battery, use only EAGTAC li-ion battery, or other protected li-ion battery with compatible length and diameter. Before using the battery, check and ensure the battery outer wrapping (the isolating plastic film that wraps around the metal housing of the battery) is complete. Broken battery wrapping may lead to short circuit and damage to the flashlight.
Lithium and Li-ion battery can explode or cause burns if disassembled, shorted, or exposed to high temperature. Do not mix new and used batteries. Do not mix batteries with different brand, capacity, voltage, or install batteries backwards.
NiMH rechargeable battery may release gas during discharge. If you experience an inflated switch boot or find high pressure being built inside the flashlight, switch off the flashlight immediately. Slowly loosen the tail-cap to reduce the internal pressure and replace all batteries.
Back to top
Flashlight Maintenance
Periodically clean the threads and o-rings with a lint free cloth and apply a thin coating of EAGTAC synthetic grease to the o-rings and threads. After prolonged exposure to moisture, the head and batteries should be removed, inspected, and dried. If you find any oxidation on the battery contact or on the flashlight contact, use a sharp tool to scrap it off. Do not touch or attempt to clean the reflector, as it will scratch the reflective coating permanently.
Back to top
Not includes battery
Battery with protruded top must used in this flashlight.
Beam output diameter taken at one meter
ANSI FL-1 Lumens is a measurement of light output standardized by American National Standards Institute for use with flashlights. This ANSI Lumen measurement is the total overall light output being emitted from the flashlight. This measurement is generally more accurate as it takes into consideration the loss from reflector/lens/bezel. EAGTAC's ANSI Lumen output is measured with flashlight cold start-up using a calibrated integrated sphere.
At maximum output level (100%), the active thermal management feature slowly reduce the maximum output level according to the flashlight internal tempearture to 50% once flashlight reaches 140°F (60 °C) (higher surrounding temperaturemay result in higher flashlight temperature). It's normal for high power flashlight to run hot at MAX level. Reduce the output if the user finds the flashlight too warm to hold.
Uses EAGTAC protected 18650 3500mAh li-ion rechargeable battery
Maximum efficiency occurs when input voltage is very close to LED forward voltage.
Details and feature maybe subject to change without notice.