Dimensions
Head Dia.

1.9

inches (47 mm)

Body Dia.

1

inches (25.4 mm)

Length

6.6

inches (168 mm)1

Weight

6.3

ounces (179 grams)
w/o battery

8.1

ounces (229 grams)
w/ battery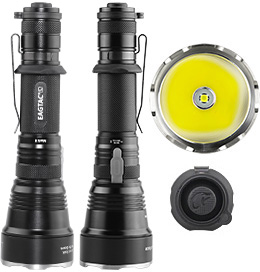 Battery Type
1x18650
Compatible battery (diameter/length)

18650: (18-18.8mm/65-68.8mm)

Battery and protection board must supports 10A discharge or higher
CR123A can only be used at lower output. Running CR123A with this flashlight at MAX output may cause the battery to overheat.
Operating voltage
What's included
S25L-R MKII flashlight
Spare o-rings
User Manual
Mil-Spec Para-cord Lanyard w/ quick attachment clip
Type-C (bi-direction insert) USB charging cable (3.3feet/1meter) w/ AWG24 copper wire
10A high current forward clicky tailcap
Removeable harden stainless steel deep pocket clip with titanium alloy dark vacuum coated finish
Two models
Base

Smooth aluminum black bezel
EAGTAC 18650 2600mAh li-ion battery (built-in 10A protection pcb at anode)

Kit

Crenulated stainless steel bezel
EAGTAC 18650 3500mAh li-ion battery (built-in 10A protection pcb at anode) authentic Sanyo GA cell
Add-on diffuser filter with flip-cover feature
Heavy duty nylon holster
(US only) UL certified 5V 1A USB charger
(EU only) TUV/GS/CE certified 5V 1A USB charger
Carrying method
Para-cord lanyard with quick attachment clip
Heavy duty nylon holster (kit only)
Waterproof
Replaceable items
Reflector
Smooth aluminum reflector
Material
HAIII hard anodization aerospace aluminum
LED
Cool White (LED lumen)

CREE XHP35 HD E4 LED (2200)
CREE XHP35 HI E2 LED (2050)

Neutral White (LED lumen)

CREE XHP35 HD E2 LED (2050)
CREE XHP35 HI D4 LED (1905)

Beam Profile

CREE XHP35 HD E4 Cool White LED

Center lux: 44,500 lux
Center spot angle: x°
Spill light angle: x°
Beam distance: 460 yards / 422 meters

CREE XHP35 HI E2 Cool White LED



Center lux: 86,900 lux
Center spot angle: x°
Spill light angle: x°
Beam distance: 643 yards / 590 meters

Lens

Waterwhite glass lens w/ harden treatment
Anti-reflective (AR) coating on both side (96% transparency)

LED circuit

W2200 Pro

Synchronous boost converter with ultra low resistance power mosfet which offers up to 96% efficiency and high voltage LED output
Uses seven large capacity MLCC for input and output decouple
Four layers FR-4 PCB for better heat transfer, lower EMC, and higher output power
Uses molded power inductor for higher saturation current and less electromagnetic interference
Current regulated output (non-PWM) for all brightness levels without flicking
Low voltage output step-down at 3V (lowers MAX output to second highest level to extend remaining runtime)
Low voltage output step-down at 2.7V (lowers any output to lowest level to extend remaining runtime)
Built-in shut down voltage at 2.5V (if voltage reaches 2.5V at the lowest level, the flashlight will turn off)
Active thermal management feature (adjustment range 70%-100%)5
Zero standby current

Charging circuit

L950 Type-C

5V USB input (requires 1A or higher)
950mA MAX charging current
Uses the latest standard type-c usb charging plug, supports bi-direction insert
Constant current / Constant voltage charging algorithm
Small current charging for low voltage battery (less than 3.0V)
Extends battery cycle life by charging battery that reads 4.05V or lower
Precise voltage detection design +/- 1%
No trickle charge
Smart charging level report system

Charging level report (charging)

Flashlight will flash one time to report the estimated remaining charging time by reading the battery voltage (at five seconds after plugged-in)

Flash once: > 2 hours
Flash twice: 1-2 hours
Flash 3 times: < 1 hour
Output and Runtime
Three brightness levels

Led lumen:

XHP35 HD E4:
22005-1650/640/14
XHP35 HI E2:
20505-1520/590/13

ANSI FL-1 lumen:

XHP35 HD E4:
17805-1350/400/40
XHP35 HI E2:
16605-1250/370/37

Runtime:
0.8-1.2/3.8/25 hrs (1x18650 3500mAh) Kit
0.5-0.8/2.3/16 hrs (1x18650 2600mAh) Base
1.5-2/7/50 hrs (2x18650 3500mAh) with optional body extender tube6 6

Optional disorienting strobe output
Operations
Basic operations:
Turn on the flashlight by pressing the tailcap button until it clicks.
Twist the head to select between three output levels.
You can pre-selected any output level before turning on the light.

Advanced:
Tail strobe feature (off by default): Switch to 1st level and turn the flashlight on and off 20 times (one second or less between each click) to toggle this feature. With the tailcap strobe setting enabled, a double press of the switch button (within one second) will activate the strobe output.
Battery charging:
8
Remove the waterproof cover and insert the included type-c charging cable to charge the battery. User must turn on the flashlight switch at the tailcap to charge.

Flashlight will switch off the LED output during charge until the charging is completed. Restart the flashlight or switch to other brightness level to wake the flashlight with cable removed.)
To check the charging progress anytime during charge, turn the head of the flashlight to wake the charging level report.
Maximum charging time for a depleted battery: 2.5-3 hrs (2600mAH 18650 li-ion), 3.5-4 hrs (3500mAh 18650 li-ion)
Controls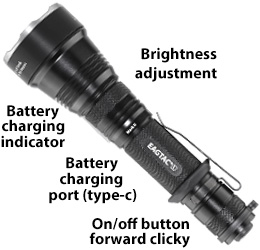 Other features
LED direct soldering on copper for maximum heatsink ability
User replaceable glass lens
Battery reverse polarity protection
Ultra low internal resistance phosphor bronze springs (silver coated)
Spring loaded positive and negative terminal
One piece head design for maximum heat transfer
Tailcap battery stabilizer design to prevent battery movement inside the battery tube
Warranty
Ten years performance guaranteed warranty
Battery Safety Precaution
Ensure the protection circuit on the 18650 battery to have current trip of 8A or higher (EAGTAC 18650 2600mAh and 3500mAh (Sanyo GA cells) with protection PCB built-in at anode both have 8A trip current). Always use proven EAGTAC batteries for best performance and reliability. Safe chemistry IMR 18650 li-ion are also supported, however use it with precaution as they are unprotected.
All EAGTAC flashlights are designed to use button-top battery (battery with protruding positive terminal). For rechargeable li-ion battery, use only EAGTAC li-ion battery, or other protected li-ion battery with compatible length and diameter. Before using the battery, check and ensure the battery outer wrapping (the isolating plastic film that wraps around the metal housing of the battery) is complete. Broken battery wrapping may lead to short circuit and damage to the flashlight.
Lithium and Li-ion battery can explode or cause burns if disassembled, shorted, or exposed to high temperature. Do not mix new and used batteries. Do not mix batteries with different brand, capacity, voltage, or install batteries backwards.
NiMH rechargeable battery may release gas during discharge. If you experience an inflated switch boot or find high pressure being built inside the flashlight, switch off the flashlight immediately. Slowly loosen the tail-cap to reduce the internal pressure and replace all batteries.
Back to top
Flashlight Maintenance
Periodically clean the threads and o-rings with a lint free cloth and apply a thin coating of EAGTAC synthetic grease to the o-rings and threads. After prolonged exposure to moisture, the head and batteries should be removed, inspected, and dried. Do not touch or attempt to clean the reflector, as it will scratch the reflective coating permanently.
Back to top
This weight measurement is based on the Kit model excluding batteries
All batteries must have protruding top button. Protected li-ion battery with 2.5V low voltage cut-off setting is recommended. Using li-ion battery with higher cut-off value (e.g. 3V) may cause the LED to blink when the battery is almost drained due to battery restarting itself. This is normal.
Beam output diameter taken at one meter
ANSI FL-1 Lumens is a measurement of light output standardized by American National Standards Institute for use with flashlights. This ANSI Lumen measurement is the total overall light output being emitted from the flashlight measured in a calibrated integrated sphere. This measurement is generally more accurate as it takes into consideration the loss from reflector/lens/bezel.
After 30 seconds at maximum output level (100%), the active thermal management feature will be activated and continuously adjusts the maximum output level according to the flashlight internal tempearture. The adjustment output range is between 75% to 100%. This feature maintains the flashlight surface temperature to be about 140°F (60 °C) or lower depending on surrounding temperature. It's normal for high power flashlight to run hot at MAX level. Reduce the output if the user finds the flashlight too warm to hold.
Runtime is measured using one EAGTAC 3500mAh high discharge 18650 li-ion batteries. MAX level runtime includes out-of-current regulation time period.
To charge a deeply discharged protected li-ion battery, the flashlight internal charging circuit will use small current to charge the battery. Usually it takes at least a few minutes for the charging circuit to bring the deeply discharged battery voltage to higher than 3.0V (which is the no-load voltage required to disable the over-charge lock-out on the battery protection circuit). If the protected li-ion battery fails to activate, contact our customer services about your situation and we may find other ways to activate it.
Details and feature maybe subject to change without notice.